Live your holiday among the trulli in alberobello
The tour includes transfer and a visit of two main areas of the town Alberobello:
Agia Piccola – a residential area,where local farmers still live in trulli houses,
and Rione Monti – the most beautiful area with souvenir shops, bar and restaurants.
During the tour, we will be able to visit one of the residential trulli houses and to know its owners, to see the church of Sant'Antonio – the only one in the world built in the trullo style.
The duration of the tour in Alberobello with free time is about 2 hours, and transfer to Bari from Alberobello is 1 hour.
On the journey from Bari, you will enjoy the typical Apulian landscape, sprinkled with olive and almond trees, vineyards, prickly pears and fruit trees also used for the preparation of liqueurs and jams.
During the tour it is possible to taste typical food, cheeses and liqueurs (melon, cactus, rose petals, olive leaves, etc.)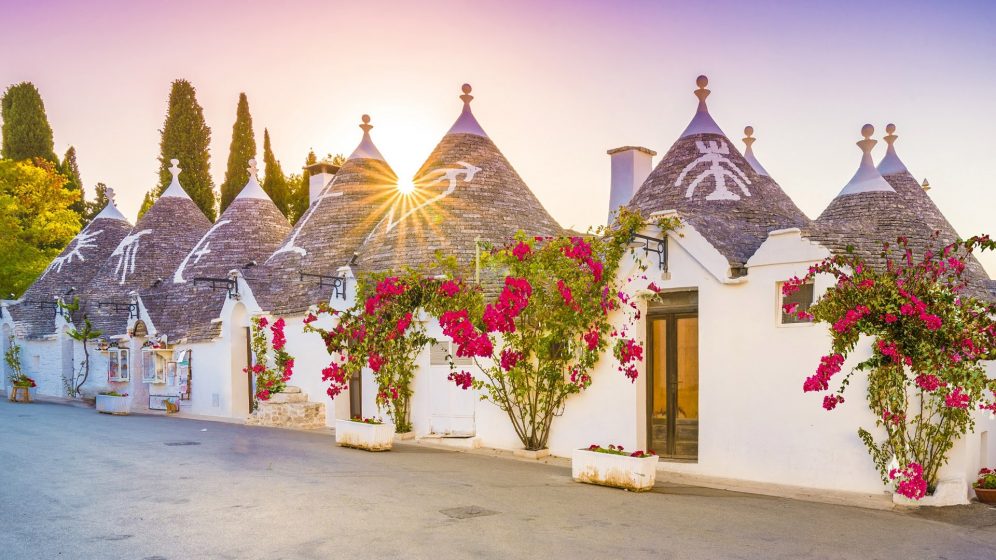 Everyone knows the trulli, rural and precarious houses, built with only local stone, with their white walls, conical roofs and now become an icon of Puglia.
Since 1996 they have become a UNESCO heritage site thanks to a project that has led to making these homes habitable.
Their structure allows good air conditioning which guarantees warm in winter and cool in summer.
The whole is made up of a single room that encloses a fireplace, beds and various furnishings.